Energy markets worldwide are undergoing major changes. Grant Thornton can help you understand and navigate the challenges, and make sure you have the solutions...
Optimism is slowly returning to the global economy, but the financial services industry needs to regain the trust of public and private bodies. To succeed,...
While the impact of the prolonged downturn continues to be felt, pockets of opportunity and optimism have emerged within the retail estate and construction...
Across the globe, not for profit organisations are increasingly expected to deliver more, while at the same time facing cuts in government funding and...
Across the globe, countries are moving towards leaner, more commercial, locally focused and responsive government and public sectors. At Grant Thornton, we are...
As soon as a start-up grows, it should outsource tasks in order to concentrate on its core competence. This increases productivity. Costs, on the other hand,...
Rapid change and complexity are norms, and innovation the fuel in the technology industry. Today's revolutions – including cloud, as-a-service, social media...
As one of the most important sectors for Austria, tourism contributes a considerable share to value creation. At the same time, the industry is under...
The new lockdown brings with it changes to short-time work. The aim is to help companies reduce personnel costs and maintain jobs. For this purpose, there are some new features and reliefs, provided they are confirmed by law.
The application for short-time work in Phase V during an imposed lockdown can be submitted retroactively 4 weeks after the start of short-time work. This is intended to defuse the unplanned lockdown.
Companies that did not apply for short-time work in the period between April, 1 2021 and June, 30 2021 (phase IV) do not have to carry out the obligatory consultation with the Austrian labor market service (AMS) if short-time work begins no later than January, 31 2022.
Companies that are directly affected can receive a maximum of 100% subsidies until March 31, 2022. This includes enterprises that had a decrease in turnover of 50% or more in the 3rd quarter of 2020 compared to the 3rd quarter of 2019 or are affected by an entry ban after July 1, 2021.
For enterprises applying for short-time work only in the period of the new lockdown or affected by an imposed ban on entry, the economic justification for short-time work does not have to be confirmed separately by a tax advisor.
Now that Short-Time Work Phase IV has expired at the end of June 2021 and many companies are still economically impacted due to the Corona pandemic, the government and the social partners recently announced the first details of short-time work Phase V. Below you will find the main framework conditions of the new Corona short-time work Phase V.
Corona short-time work phase V is in force from 1 July 2021 to 30 June 2022. Two different models have been worked out, which can be used by entrepreneurs.
Time schedule
Here you can see the time schedule of the Corona short-time work phase V in the graphical overview: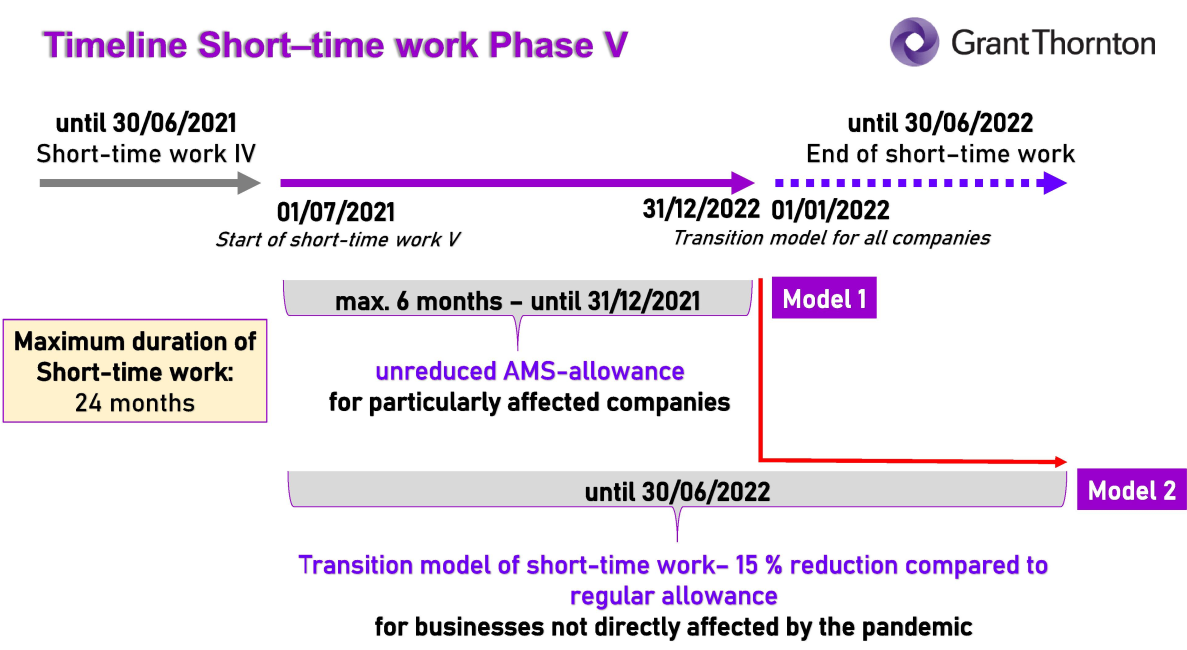 Short-time work models
Of the two new models for short-time work, one applies to particularly affected companies (limited until Dec. 31, 2021) and one to all other companies:
Model 1
Businesses that continue to be significantly affected by the restrictions of the COVID measures (night catering, trade fair organizers, etc.) can continue to make use of the instrument of short-time work in an unchanged manner. The prerequisite for claiming the unchanged KUA support is the existence of a sales slump of at least 50% (as a comparison period, the third quarter of 2020 is compared to the third quarter of 2019). For these businesses, largely the same framework conditions apply as in Phase IV. The minimum working hours must be 30% based on normal working hours before short-time work. A reduction to up to 0% working hours is made possible by the social partners through an exception request (the corresponding enclosure has to be added to the social partner agreement). After 31 December 2021, a transition to model 2 is possible.
Model 2
For all remaining companies that are not directly affected by restrictions but have nevertheless suffered financial bottlenecks as a result of the COVID crisis, there is the transitional model of Corona short-time work, taking into account a reduced funding level. This model is expected to be available until June 2022. The subsidy level is reduced by a subsidy discount of 15% based on the previously granted subsidy level. The minimum working hours based on the normal working hours (NET) of the employees have to be 50% in this model.
For both short-time work V models, mandatory leave consumption also applies, staggered according to the duration of the requested short-time work period:
Short-time work period more than 1 month → 1 week of mandatory leave consumption.
Short-time working period more than 3 months → 2 weeks of compulsory vacation consumption
Short-time working period more than 5 months → 3 weeks of compulsory leave consumption
Social partner agreements
Within the framework of the social partner agreement (form version 10.0), the sales development since June 2019 until the start of the short-time work period must be stated. The voluntary tip replacement option also remains in place in phase V of short-time working.
Deadlines for submitting applications
Here you can find the deadlines for submitting an application for short-time work phase V in the graphical overview: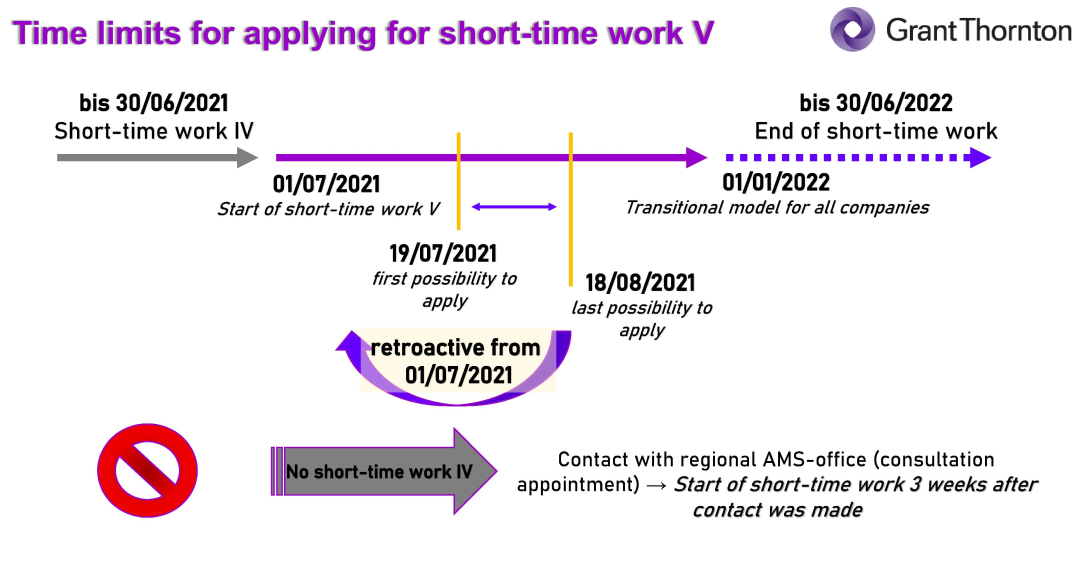 Short-time work applications from 1 July 2021 can be submitted retroactively from 19 July 2021 until 18 August 2021 via the eAMS account.
Please note: Please take into account that companies that have not agreed to short-time work between 1 April 2021 and 30 June 2021 (phase IV) have to contact the regional AMS office before submitting a phase V application. In the further course, a consultation meeting will take place between AMS and the social partners to decide whether short-time work cannot be averted by other measures.
If you have any questions about short-time work, our experts Michael Koehler and Martin Pertl will be happy to assist you.