After the short-time-work phase IV will expire within the end of June, the government together with the social partners recently announced the first bullet points on the new short-time-work phase V. In the following article, you will find an overview of the main conditions and regulations, which will probably come into force on July 1, 2021.
As many industries are still struggling economically due to the after-effects of the Corona pandemic, key details on the further development and extension of short-time-work have recently been published by the government.
Companies that are still significantly affected by the restrictions of the COVID measures will continue to be able to apply for short-time-work. Unlike in previous periods, two different models will be created that can be used by companies whose financial performance has been affected negatively by the Corona crisis.
For businesses affected directly by closures or measures against COVID (night catering, exhibition organizers, etc.), the same conditions as in Phase IV are expected to apply until the end of 2021. For these businesses, the minimum working time must be 30% based on the regular working hours before short-time-work (this was already the case in the previous phases). A reduction up to 0% working time can be defined through an exception application with the social partners in certain cases. The requirement for claiming the unreduced subsidy amount is a drop in sales of at least 50% (as a comparison period, the third quarter of 2020 is compared with the third quarter of 2019).
For all remaining businesses that are not directly affected by the closure provisions (indirectly affected businesses), but have nevertheless suffered financial difficulties due to the COVID crisis, the alternative solution will be a transitional Corona short-time working model, taking into account a reduced funding level, and is expected to run until June 2022. As of July 1, there will be a subsidy discount of 15% for these businesses based on the previously granted subsidy level - the subsidy recipient must ensure that the minimum working time will be at least 50%.
For both short-time-work models of phase V a mandatory vacation consumption of one week per two months of short-time-work is mandatory. In addition, as of July 1 2021, a maximum duration of 24 months is envisaged for the use of a short-time work subsidy - the respective details will be announced soon.
The short-time working models at a glance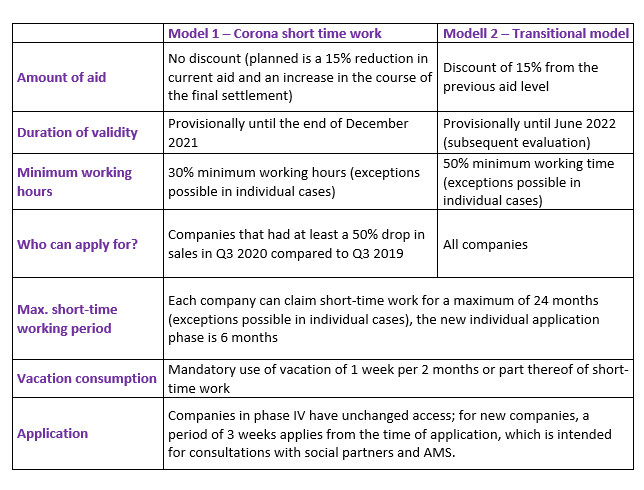 Do you still have questions about short-time work? Our experts Michael Koehler, Christoph Schmidl and Markus Fleischmann will be happy to assist you.