Energy markets worldwide are undergoing major changes. Grant Thornton can help you understand and navigate the challenges, and make sure you have the solutions...
Optimism is slowly returning to the global economy, but the financial services industry needs to regain the trust of public and private bodies. To succeed,...
While the impact of the prolonged downturn continues to be felt, pockets of opportunity and optimism have emerged within the retail estate and construction...
Across the globe, not for profit organisations are increasingly expected to deliver more, while at the same time facing cuts in government funding and...
Across the globe, countries are moving towards leaner, more commercial, locally focused and responsive government and public sectors. At Grant Thornton, we are...
As soon as a start-up grows, it should outsource tasks in order to concentrate on its core competence. This increases productivity. Costs, on the other hand,...
Rapid change and complexity are norms, and innovation the fuel in the technology industry. Today's revolutions – including cloud, as-a-service, social media...
As one of the most important sectors for Austria, tourism contributes a considerable share to value creation. At the same time, the industry is under...
In times of uncertainty businesses often turn to a trusted confidant, who can diagnose their problems and recommend a course of action to thrive. It is perhaps therefore no surprise that when many sectors are starting to look off colour, the professional services sector is in relatively good health. In this article, we explore the vital signs for the Professional services sector and explore their outlook.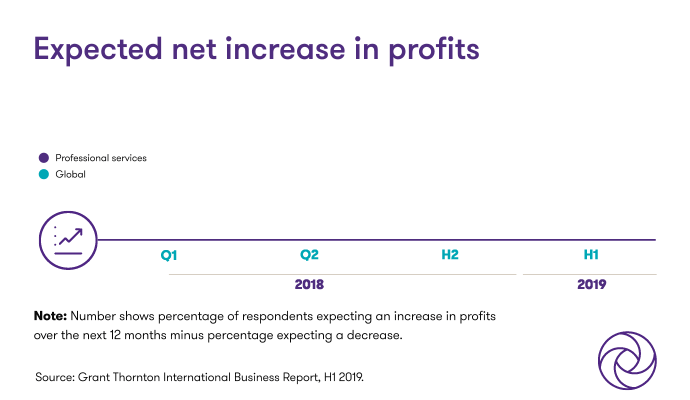 The health of this diverse sector spanning consultants; lawyers; professional, scientific and technical advisors; and even software engineers is best demonstrated by looking at its profit growth. Our research among nearly 5,000 mid-market companies globally, reveals that professional services companies are expecting to grow profit well ahead of the market in the next 12 months.
Uncertainty is more than just a short-term tonic
The professional services sector is seeing a period of sustained outperformance, as the wider market seeks help from a range of professionals to adapt to uncertainty and change. Peter Gamson, global head of professional services, notes that while many thought this uncertainty would be a short-term tonic for the industry, it is increasingly looking like an elixir, with much longer-term health benefits.
"I think this uncertainty could last into the medium or long term. The more we see a degree of pessimism in other sectors, the more there are potential grounds for optimism in the advisory sector, because those other sectors are going to need help."
At present, Peter notes that companies in most major territories are having to deal with massive amounts of economic, political and regulatory uncertainty. In the UK, for example, there have been large spikes in revenue in the areas of employment advice, tax advice and structuring advice following the Brexit referendum as companies have developed contingency plans and made structural changes.
In Australia, Conor Farley, Grant Thornton audit partner, notes that sector growth has been supported by the Royal Commission into Misconduct in the Banking, Superannuation and Financial Services Industry, which generated significant work for a number of law firms, and the infrastructure boom, which bolstered architects and engineers.
Over in China, professional services companies are helping to steer multinationals operating or expanding in the country through the continued investment uncertainties. "Companies who took China's growth for granted now have become outdated," says Dr Tim Klatte, head of Shanghai forensic advisory services at Grant Thornton China, stressing the rapid pace of modernisation and innovation in the market.
In the world's biggest market, the USA, there is no let up to the political and economic uncertainties. In a recent Grant Thornton LLP survey, nearly two-thirds of US mid-market leaders said they expected a recession in the next 18 months. "As expectations for a near term recession grow in the US, professionals services firms are examining their operations and infrastructure. Adoption of technology and new business processes will help them weather economic difficulties that may lie ahead," notes Bryan Merrigan, US professional services partner.
This strong client demand is helping to support pricing and profits in the sector. Expectations for selling prices for the next 12 months have risen by a significant 6ppts since H2 2018, to a net increase of 34% in H1 2019. This compares to a global net increase figure of 29%.
Professional services companies are investing for growth
To keep up with this client demand, the sector is actively investing across all the measures we look at – one of the very few sectors that is. An area of particular focus is IT, where some 57% of firms expect to increase their investment in the coming year. "This is part opportunity and part need. All of the professions face a significant challenge in the form of digital because it presents a huge opportunity to enhance the quality of the offering to the end client and work more efficiently," says Peter.
Automating manually-intensive processes is increasingly a requirement for professional services companies if they are to get a foot in the door with clients. But investment in new technology needs to be done carefully. "The world of digital is moving so fast. You don't want to spend a lot of money on something that very quickly becomes redundant. So you have to think differently about execution. Firms that are really pushing themselves are looking at the digital challenge and approaching it by way of a partnering arrangement with providers, rather than simply buying it in."
The sector is also actively spending on people. Its employment intentions are topped by just one other sector, with an expected net increase in employment in the next 12 months of 38%. Professional services companies will also be particularly generous with their salary increases, with 31% looking to offer employees an above inflation pay rise in the next 12 months (global average 21%).
"The cost of quality employees is going up. Consulting companies are seeking people with double PhDs in data science and there aren't that many around, so they are throwing a lot of money at quality people. Employee salaries in the legal market in the UK are being driven up significantly because US firms are paying vastly higher salaries as they look to increase their international diversification plans."
Firms are also being more strategic about the skills they look for in their new starters and taking a global approach to deploying and developing this talent. "In the case of auditing, do you want to employ very good accountancy students to become auditors of the future, and teach them how to use technology? Or do you want to recruit people who are brilliant with technology, and teach them how to be auditors? Across all the professions, the characteristics firms have sought up to this point are not necessarily the skills and capabilities that the firms need to deliver great client service going forward.
Future research will show just how long the prevailing uncertainty persists, and whether uncertainty becomes the new certainty. For the time being, the professional services sector's optimism seems well justified and these businesses are right to be gearing up to help the market, and themselves, in the process.
If you would like to discuss any of the areas raised in this article, please contact our expert Marlene Halikias.