Energy markets worldwide are undergoing major changes. Grant Thornton can help you understand and navigate the challenges, and make sure you have the solutions...
Optimism is slowly returning to the global economy, but the financial services industry needs to regain the trust of public and private bodies. To succeed,...
While the impact of the prolonged downturn continues to be felt, pockets of opportunity and optimism have emerged within the retail estate and construction...
Across the globe, not for profit organisations are increasingly expected to deliver more, while at the same time facing cuts in government funding and...
Across the globe, countries are moving towards leaner, more commercial, locally focused and responsive government and public sectors. At Grant Thornton, we are...
As soon as a start-up grows, it should outsource tasks in order to concentrate on its core competence. This increases productivity. Costs, on the other hand,...
Rapid change and complexity are norms, and innovation the fuel in the technology industry. Today's revolutions – including cloud, as-a-service, social media...
As one of the most important sectors for Austria, tourism contributes a considerable share to value creation. At the same time, the industry is under...
Businesses looking to invest in growth as uncertainty lessons
The latest update from our International Business Report (IBR) provided some encouraging signs for the health of the global economy. On the back of easing demand conditions, both investment plans and business confidence are up.
Are we finally seeing some light at the end of the tunnel of economic uncertainty? The answer is: I hope so.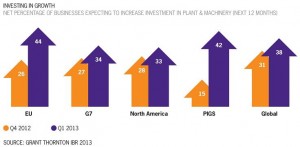 Resolution of the so-called 'fiscal cliff' in the United States certainly helped. The sequester has since kicked in but businesses do not seem unduly worried about the spending cuts or the debt ceiling negotiations to come. Recent jobs numbers disappointed but growth forecasts remain steady.
Japan has perennially been at the foot of our global optimism league table, but a new Prime Minister, a new Central Bank governor and a US$116bn stimulus programme – which aims to boost GDP by 2% and add 600,000 jobs – have boosted business confidence.
The situation in Europe remains tricky – France has replaced Japan at the bottom of the optimism league table and is joined in the bottom ten by seven European neighbours. The bailout of Cyprus could yet have contagion effects, however overall demand conditions seem to be improving.
The key point is that business investment is a more attractive (and less risky) proposition in a more certain macroeconomic environment. And the investment figures are particularly encouraging. If firms feel confident enough to invest (and 38% in our survey do – the highest since 2007) then this bodes well for supply chains and jobs – and therefore for growth prospects.
Businesses have been hoarding cash, leaving reserves at record levels – approximately US$1.8trn in the United States and US$1.5trn in Europe. This is significant financial firepower. Let's hope improving external conditions encourage them to use it.