Energy markets worldwide are undergoing major changes. Grant Thornton can help you understand and navigate the challenges, and make sure you have the solutions...
Optimism is slowly returning to the global economy, but the financial services industry needs to regain the trust of public and private bodies. To succeed,...
While the impact of the prolonged downturn continues to be felt, pockets of opportunity and optimism have emerged within the retail estate and construction...
Across the globe, not for profit organisations are increasingly expected to deliver more, while at the same time facing cuts in government funding and...
Across the globe, countries are moving towards leaner, more commercial, locally focused and responsive government and public sectors. At Grant Thornton, we are...
As soon as a start-up grows, it should outsource tasks in order to concentrate on its core competence. This increases productivity. Costs, on the other hand,...
Rapid change and complexity are norms, and innovation the fuel in the technology industry. Today's revolutions – including cloud, as-a-service, social media...
As one of the most important sectors for Austria, tourism contributes a considerable share to value creation. At the same time, the industry is under...
Sector making good progress towards commercialisation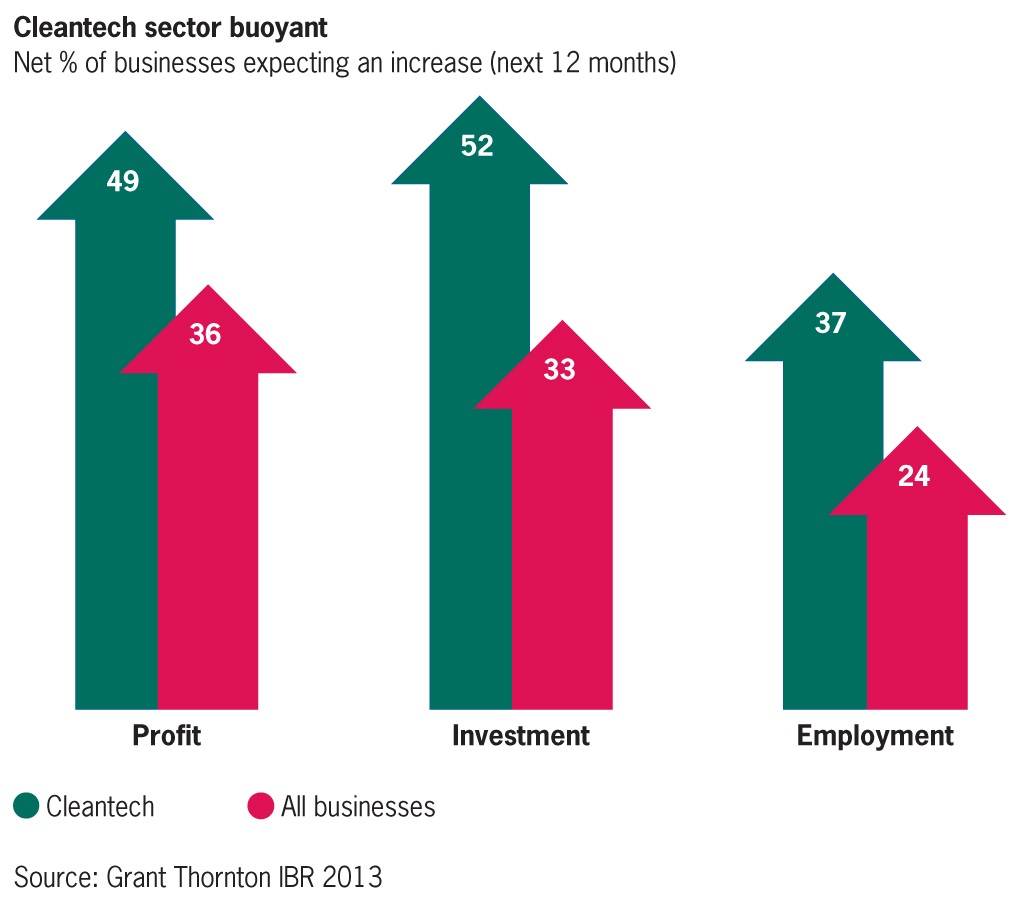 At a time when China and the EU are arguing over solar panel subsidies and shale gas has revolutionised the US – and perhaps soon the global – energy market, I was encouraged to see the general optimism amongst cleantech businesses in the Q2 update from our International Business Report (IBR).
As the chart to the left shows, businesses in the cleantech sector are more likely to increase investment and employment over the next 12 months compared with businesses in other sectors. They are also much more confident in their ability to increase profits.
Of course, the IBR is a survey which looks at intentions rather than results but it follows that confident businesses are more likely to invest, that they are more likely to hire workers, in short, that they are more likely to grow.
Challenges remain, however. Businesses in the sector are suffering more from bureaucracy, a shortage of skilled workers and access to finance compared with peers in other sectors.
Cleantech is a dynamic and still relatively young sector. Doing new things – and the same things more efficiently – offers growth opportunities. But it also pushes against traditional boundaries. It takes time for regulations and worker skills to catch up. Newer, untried initiatives present greater risk to lenders.
Despite this, demand for cleantech goods and services appears relatively strong. Just under a third of the 518 businesses surveyed are worried about their order books, below the global average and other sectors such as construction & property and manufacturing.
This is all the more encouraging at a time when governments are capping or reducing their direct support for cleantech, suggesting that good progress towards commercialisation is being made.
Nathan Goode is global leader for energy & cleantech at Grant Thornton.