Energy markets worldwide are undergoing major changes. Grant Thornton can help you understand and navigate the challenges, and make sure you have the solutions...
Optimism is slowly returning to the global economy, but the financial services industry needs to regain the trust of public and private bodies. To succeed,...
While the impact of the prolonged downturn continues to be felt, pockets of opportunity and optimism have emerged within the retail estate and construction...
Across the globe, not for profit organisations are increasingly expected to deliver more, while at the same time facing cuts in government funding and...
Across the globe, countries are moving towards leaner, more commercial, locally focused and responsive government and public sectors. At Grant Thornton, we are...
As soon as a start-up grows, it should outsource tasks in order to concentrate on its core competence. This increases productivity. Costs, on the other hand,...
Rapid change and complexity are norms, and innovation the fuel in the technology industry. Today's revolutions – including cloud, as-a-service, social media...
As one of the most important sectors for Austria, tourism contributes a considerable share to value creation. At the same time, the industry is under...
Understanding the balance of reason and instinct in decision-making.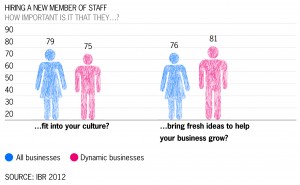 Dynamic organisations need to apply both reason and instinct when making business decisions is the cornerstone of our 2012 advertising campaign. The response from the market has been overwhelmingly positive, but the campaign generated a great deal of interest around how these two elements of decision-making combine and interact with each other.
We therefore used our International Business Report, a quarterly survey of more than 3,000 business leaders in 41 economies, to try and answer some key questions: Are businesses more likely to go with their instinct, as opposed to reason, when making certain decisions? And do dynamic organisations use their instinct more than their peers?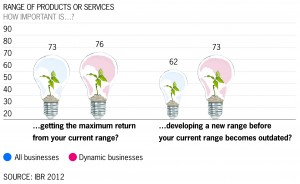 Businesses were asked how much they agreed with pairs of statements, one which leads towards reason and the other towards instinct. For example, 'How important is it that a new member of staff a. fits into your culture (reason), b. brings fresh ideas to help your business grow (instinct)?'
The results show that businesses are most likely to use instinct where it relates to staff: more than three-quarters of businesses said it was important that new hires bring fresh ideas to help their business grow. Conversely, businesses are more circumspect when it comes to financing: just 48% of businesses believe borrowing to grow is good for their business. Of course it is much easier to gauge the attributes of a loan up front as opposed to a new member of staff.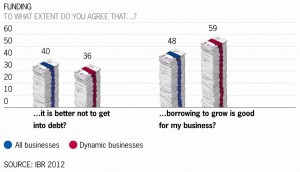 The results for dynamic businesses[1] clearly show they are more likely to use instinct in decision making: 73% believe it is important to develop new products and services before older ranges become outdated, compared with 62% of all businesses; 81% want new hires to bring fresh ideas; and 59% advocate borrowing to grow.
So businesses are more likely to use instinct where the outcomes are more opaque, and dynamic organisations are more willing to take a risk than their peers. Completely logical when you think about it.
Much like the reason and instinct campaign.