Big sporting events key to attracting investment, say emerging economies
Unable to devalue their currencies as a means to increase the price competitiveness of goods and services, new research shows that the EU bailout economies are showing signs of undergoing a process of internal devaluation. As a consequence of austerity measures and low levels of economic activity, wages and selling prices in these countries look set to fall relative to other economic regions, according to Grant Thornton's International Business Report (IBR) - giving a much needed boost in competitiveness to businesses in those countries.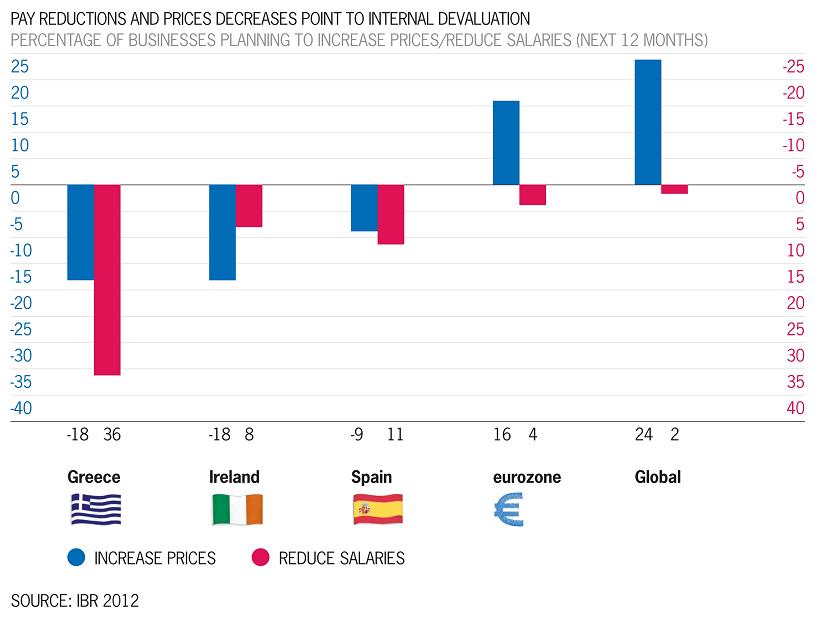 Lower selling prices
The latest results from the IBR illustrate that, whereas on balance businesses across the world will increase the price they sell goods and services for over the next 12 months, the only region with more price cutters than risers is the EU bailout economies. In this troubled group of economies, which have all now received bailout funds, net -11% plan to increase selling prices over the next 12 months (indicating that 11% more businesses plan to reduce prices than plan to increase them) falling from -3% in the previous quarter. This compares to net 24% globally. In Greece and Ireland this figure is -18% (down from -16% and -4% respectively in Q1), and in Spain -9% (down from 0%). By contrast net 24% of businesses globally will raise the price of their goods and services over the next 12 months. 36% of businesses in the BRIC economies will do so, 33% in North America and 42% in Latin America.

Lower wages
In addition, in EU bailout economies almost no businesses (just 1%) are planning to give above inflation pay rises in the next 12 months. Instead 15% will reduce wages and 49% intend to offer no increase. By contrast just 2% of businesses globally expect to lower salaries over the next 12 months, with 17% planning above inflation wage increases. No businesses in Greece plan to offer pay rises over this period and 36% of businesses expect to reduce salaries. This compares to the 73% of businesses in the BRIC economies planning to offer pay rises at inflation, 19% of which will be above inflation. In North America employers are feeling even more generous; 85% of businesses intend to award pay increases to staff, of which 24% will be above inflation. Even in the European Union as a whole over half of businesses (54%) will raise salaries, 10% at least in line with inflation.

Ed Nusbaum, CEO of Grant Thornton International, said: "Economic conditions in the EU bailout economies are tough right now for businesses and families. Unemployment rates in countries such as Spain and Greece are now well over 20% and austerity measures are biting. Although far from desirable, as a consequence of this we are beginning to see what we are calling a Gre-valuation - an internal devaluation whereby low levels of demand are pushing down prices and wage costs. Although undoubtedly painful, this will give businesses in these regions a competitive advantage when selling goods at home or exporting abroad, given that other nations are set to increase their selling prices.

We are seeing fundamental economic forces at work. This process of austerity leading to lower prices occurred in the Baltic states where Latvia has returned to growth and was recently praised for its achievements by the IMF. It's not easy or pretty, but this shows it can be done.

Notes to editors
The Grant Thornton International Business Report (IBR) provides insight into the views and expectations of over 12,000 businesses per year across 40 economies. This unique survey draws upon 20 years of trend data for most European participants and 10 years for many non-European economies. For more information, please visit: www.internationalbusinessreport.com .

Data collection
Data collection is managed by Grant Thornton International's core research partner -Experian. Questionnaires are translated into local languages with each participating country
having the option to ask a small number of country specific questions in addition to the core questionnaire. Fieldwork is undertaken on a quarterly basis. The research is carried out primarily by telephone.

Sample
IBR is a survey of both listed and privately held businesses. The data for this release are drawn from interviews with 3,000 businesses from all industry sectors across the globe conducted in May/June 2012. The target respondents are chief executive officers, managing directors, chairmen or other senior executives.
Director of Public Relations and External Affairs
T +1 312 602 8955