Now that Short-Time Work Phase IV has expired at the end of June 2021 and many companies are still economically impacted due to the Corona pandemic, the government and the social partners recently announced the first details of short-time work Phase V. Below you will find the main framework conditions of the new Corona short-time work Phase V.
Corona short-time work phase V is in force from 1 July 2021 to 30 June 2022. Two different models have been worked out, which can be used by entrepreneurs.
Time schedule
Here you can see the time schedule of the Corona short-time work phase V in the graphical overview: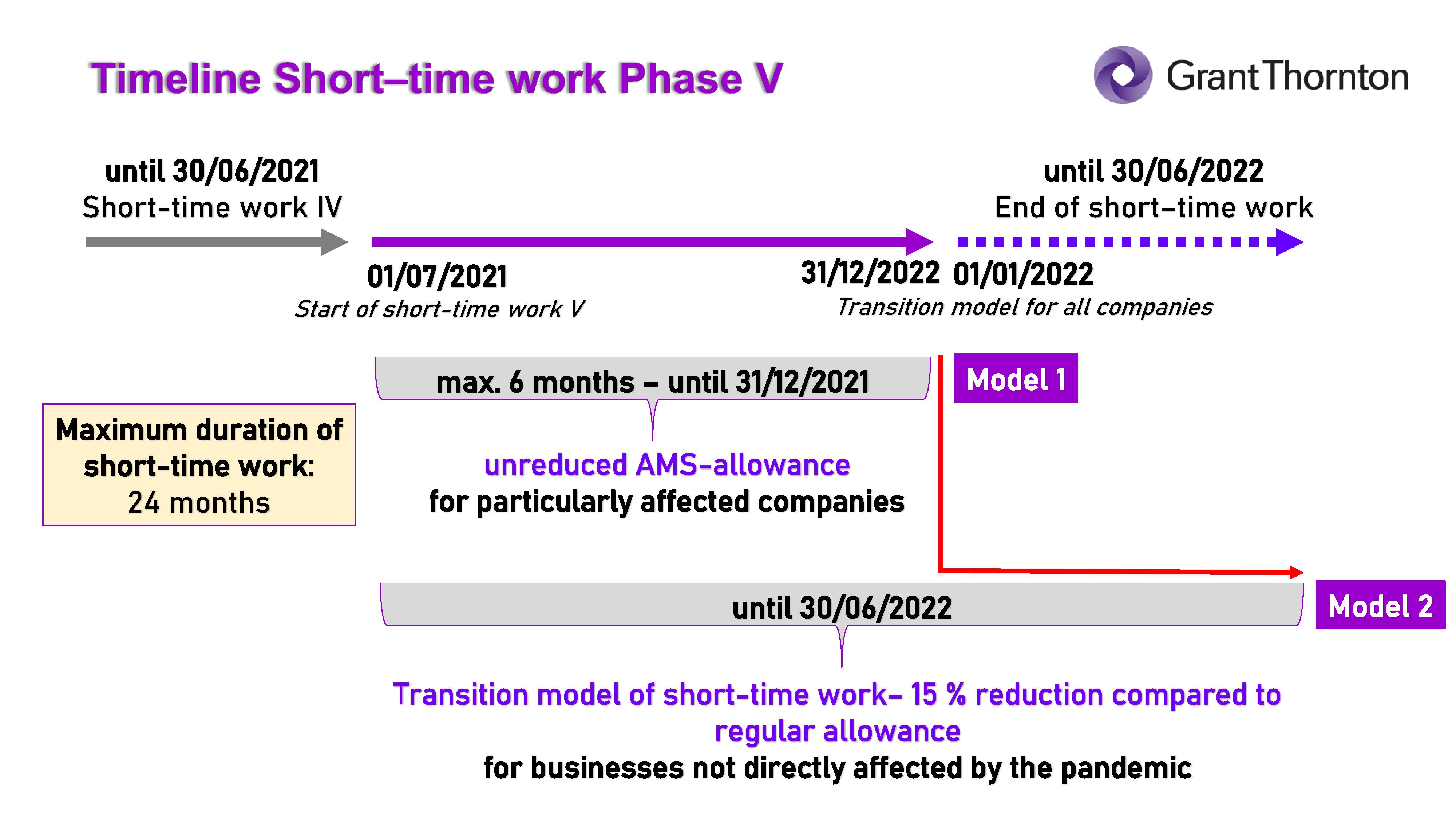 Short-time work models
Of the two new models for short-time work, one applies to particularly affected companies (limited until Dec. 31, 2021) and one to all other companies:
Model 1
Businesses that continue to be significantly affected by the restrictions of the COVID measures (night catering, trade fair organizers, etc.) can continue to make use of the instrument of short-time work in an unchanged manner. The prerequisite for claiming the unchanged KUA support is the existence of a sales slump of at least 50% (as a comparison period, the third quarter of 2020 is compared to the third quarter of 2019). For these businesses, largely the same framework conditions apply as in Phase IV. The minimum working hours must be 30% based on normal working hours before short-time work. A reduction to up to 0% working hours is made possible by the social partners through an exception request (the corresponding enclosure has to be added to the social partner agreement). After 31 December 2021, a transition to model 2 is possible.
Model 2
For all remaining companies that are not directly affected by restrictions but have nevertheless suffered financial bottlenecks as a result of the COVID crisis, there is the transitional model of Corona short-time work, taking into account a reduced funding level. This model is expected to be available until June 2022. The subsidy level is reduced by a subsidy discount of 15% based on the previously granted subsidy level. The minimum working hours based on the normal working hours (NET) of the employees have to be 50% in this model.
For both short-time work V models, mandatory leave consumption also applies, staggered according to the duration of the requested short-time work period:
Short-time work period more than 1 month → 1 week of mandatory leave consumption.
Short-time working period more than 3 months → 2 weeks of compulsory vacation consumption
Short-time working period more than 5 months → 3 weeks of compulsory leave consumption
Social partner agreements
Within the framework of the social partner agreement (form version 10.0), the sales development since June 2019 until the start of the short-time work period must be stated. The voluntary tip replacement option also remains in place in phase V of short-time working.
Deadlines for submitting applications
Here you can find the deadlines for submitting an application for short-time work phase V in the graphical overview: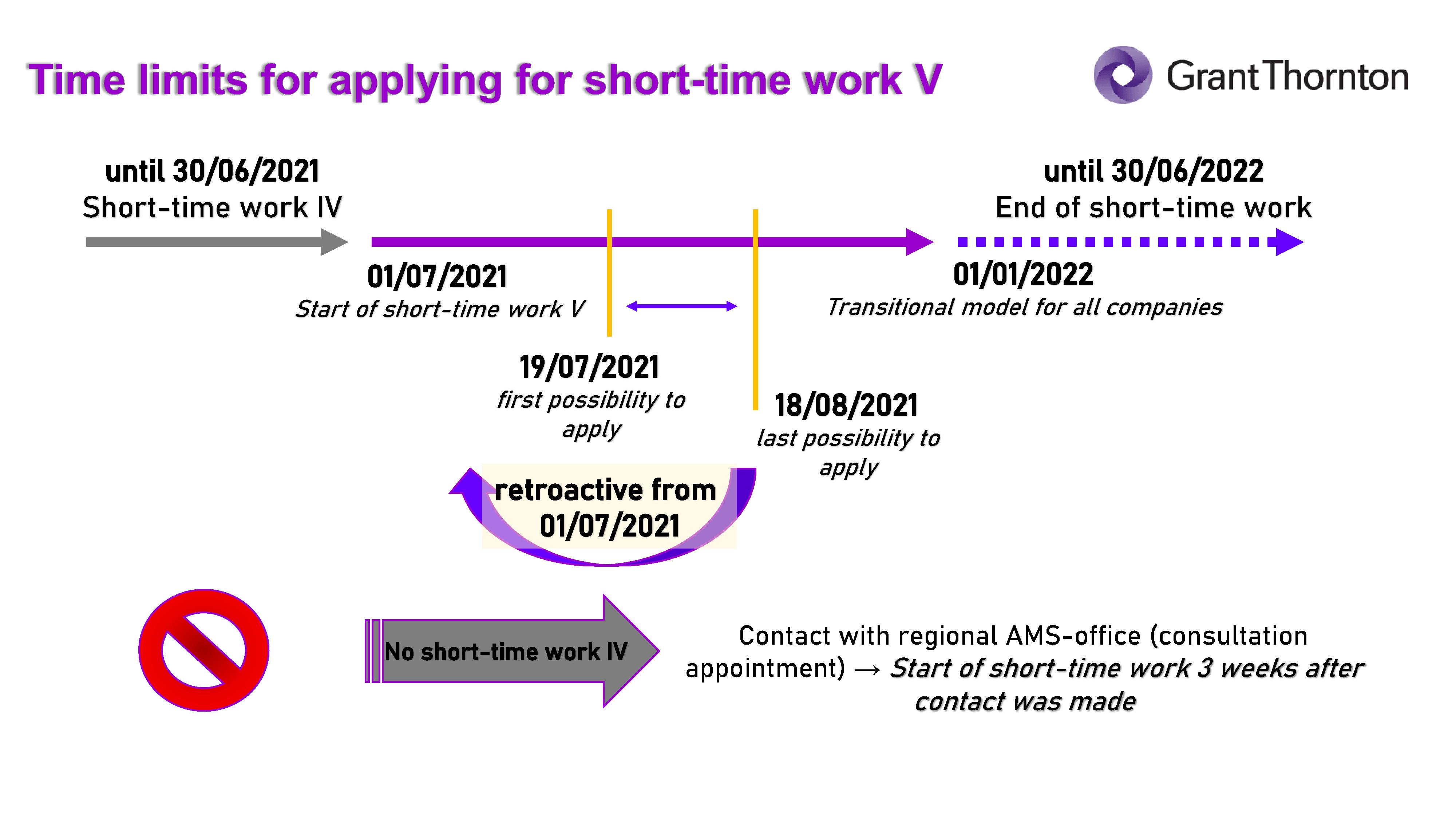 Short-time work applications from 1 July 2021 can be submitted retroactively from 19 July 2021 until 18 August 2021 via the eAMS account.
Please note: Please take into account that companies that have not agreed to short-time work between 1 April 2021 and 30 June 2021 (phase IV) have to contact the regional AMS office before submitting a phase V application. In the further course, a consultation meeting will take place between AMS and the social partners to decide whether short-time work cannot be averted by other measures.
If you have any questions about short-time work, our expert Michael Koehler will be happy to assist you.